Charles Kelly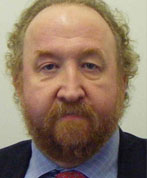 Position: Consultant Clinical Oncologist
Hospital: Northern Centre Cancer Care in Newcastle
Contact:
I have been a consultant clinical oncologist at the Northern Centre Cancer Care in Newcastle for the past 25 years, having trained in both the Glasgow and Edinburgh Oncology centres. My main clinical interests are head neck cancer, thyroid cancer, skin cancer & melanoma and geriatric oncology. I originally developed the online Masters/diploma courses in oncology, palliative care and Oncology for Pharma here in Newcastle where students can study for a Masters degree or diploma/certificate without ever coming to Newcastle.
Obviously, being a head and neck oncologists one comes across mucositis and its secondary problems on a daily basis, and it is surprising that so little prospective research has been done with this important and debilitating morbidity. I hope being involved with Ukomic helps change this situation.