Jo Gemmill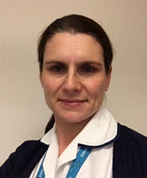 Position: Advanced Practice Radiographer - Head and Neck
Hospital: Department of Radiotherapy, Addenbrookes' Hospital, Cambridge
Qualifications: BSc Hon (T), MSc, PGC ClinTeach, IP/SP, PGC ClinHyp
Contact:
Jo is a therapeutic radiographer and has specialised in head and neck radiotherapy/chemo-radiotherapy since 2004. Jo has completed a number of post graduate, Masters level courses, including independent prescribing, to enable the management of treatment side effects. Jo delivers pre-treatment clinics to inform and empower patients to proactively manage oral care from the beginning of their treatment journey. During treatment review clinics support, advise, educate and motivate patients and their family/careers to maintain oral care and encourage proactive side effect management throughout treatment and beyond. Jo has a keen interest in promoting oral care and sees the benefits of well managed oral hygiene, both physically and psychologically, for this patient group.